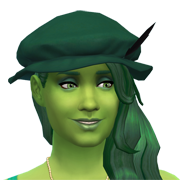 About Kate
Resident Since: 2003 (Founder)
I create for...
The Sims
The Sims 2
The Sims 3
The Sims 4
Skills
Creativity: +7
Logic: -3
Cooking: setting the kitchen on fire
Follow Me:

Ebay: The Fat Strawberry Shoes & Clothes

Email

Twitter

The Fat Strawberry
---
Safety First!
According to our data nearly 10% of you are using a browser which is more than 5 years out of date. This is incredibly dangerous and stupid as well as unnecessary. Update immediately and your browser will maintain itself and give you the best compatibility and safety online.
Instructions
We advise that you only use ANY custom content for The Sims IF you have every expansion pack. This is the safest option regardless of where you download your custom content from.
Related Links:
File Types
Furniture & Objects may include the following different types of files:
.iff (object)
.exe (object)
.bmp (skin)
.cmx (skin)
.skn (skin)
Skins include the following different types of files:
.bmp (skin)
.cmx (skin)
.skn (skin)
Walls & Floors
.wll (wall)
.flr (floor)
Please follow the instructions provided to make sure you put the right files in the right folders!
---
Update: February 5th 2016
I have updated with 160 new items in Sims 1 Walls and Floors
---
News: October 20th 2014
I really had hoped to release some content for Sims 1 in this past year, however I seem to have run into a technical hiccup. I decided to post about it on the off chance someone sees it and knows an answer (very unlikely)
About 8 months ago my 3D program (what I use to make the 3d models of the objects) stopped working, it would simply stop responding after I started it. I believe this started when I updated my graphics card drivers for my laptop. I cannot go back to an earlier version of my graphics card drivers a) because the older version is really really old and kept locking up my laptop b) weren't compatible with Skyrim (something I care hugely about). I can't upgrade my 3D program because a) I don't have a spare $3000 to buy a new version (my current version doesn't qualify for the cheaper upgrade path) and even if I did b) the version I am using, 3D Studio Max 9.0 is the very last version which is compatible with EA's sprite exporter plugin (something that turns the 3D model into the right type of 2D renders to make objects). It simply doesn't work with later versions according to other people who have tried it out.
Back in the dark ages I used to make objects by hand but a) they were rubbish and b) they took forever to make and I just don't have the free time to spend 2 months trying (and failing) to make a bed that I would normally expect to complete in an hour.
If anyone out there uses the same program and has some suggestions please let me know!
Update: January 13th 2012
I have updated with 284 new items in Sims 1 Heads
Update: July 21st 2011
I have updated with the Elgardian Light set in Sims 1 Furniture
Update: July 21st 2011
I have updated with the Elgardian Night set in Sims 1 Furniture
Update: June 14th 2011
I have updated with the The Sparnacle set in Sims 1 Furniture
Update: June 14th 2011
I have updated with 9 new items in Sims 1 Walls and Floors
Update: June 10th 2011
I have updated with the Pacific Grande set in Sims 1 Furniture